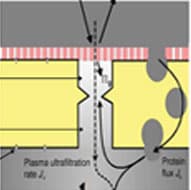 Microvascular fluid exchange and the revised Starling principle
The plasma, interstitial fluid (ISF), and lymph compartments are linked in series and, in the steady state, fluid flows continuously from one compartment to the next. Lymph drains back into the circulation chiefly at the major veins at the base of the neck. Accidental lymphatic fistulae in the neck indicate a total post-nodal lymph flow of up to 4 L/ day in humans. Later work revealed that roughly half the fluid content of afferent lymph can be absorbed by lymph node microvessels,1,2 raising the fluid turnover estimate to !8 L/day.3 This is a considerable fluid turnover; since human plasma volume is only !3 L, the entire plasma volume (except the proteins) leaves the circulation approximately once every 9 h.
Substantial fluid movements between the plasma and interstitium account for the rapid swelling of acutely inflamed tissues (minutes), and for the oedematous swelling of venous thrombosis, cardiac failure, and lymphatic failure over hours to days. Conversely, haemodilution following an acute haemorrhage reveals a rapid absorption of ISF into the blood stream (!0.5 L in 15–30 min). Acute fluid transfers are important medically, because lasma volume is a majordeterminant of the cardiac filling pressure and thus cardiac output (Starling's 'law of the heart').
Download Full Article
---