The Lymph Clinic, is based at the Cork Clinic and directed by Meadbh MacSweeney, Meadbh is the only certified Dr Vodder manual lymphatic drainage teacher in Ireland. Directing a team of therapists who have had highly specialist training for the treatment of lymphedema and other lymphatic-related disorders means clients can be assured of the very best therapeutic and academic experience, supported by local, national and international expertise in the field .
Expert lymphologists (Dr Melanie Wohlgennant & Prof Weissleder) and practical teachers   (Ms Koby Blanchfield ) recommended by the Dr Vodder Akademie lend their expertise in teaching. Professor Peter Mortimer lends both academic and clinical expertise and attends the clinic on an annual basis to review referred complex lymphedema cases.
UNDERSTANDING THE LYMPHATIC SYSTEM
The lymphatic system is a network of tissues and organs that help rid the body of toxins, waste and other unwanted materials. The primary function of the lymphatic system is to transport lymph, a fluid containing infection-fighting white blood cells, throughout the body. Read more The tonsils, adenoids, spleen and thymus are all part of the lymphatic system, this system primarily consists of lymphatic vessels, which are similar to the circulatory system's veins and capillaries. Essentially it is the 'hoover' system of the body carrying nutrients to the cells for daily function, growth and repair, and then picking up the metabolic waste to be delivered to the lymph nodes to be filtered and cleansed in order to return to the circulatory system as a cleansed product.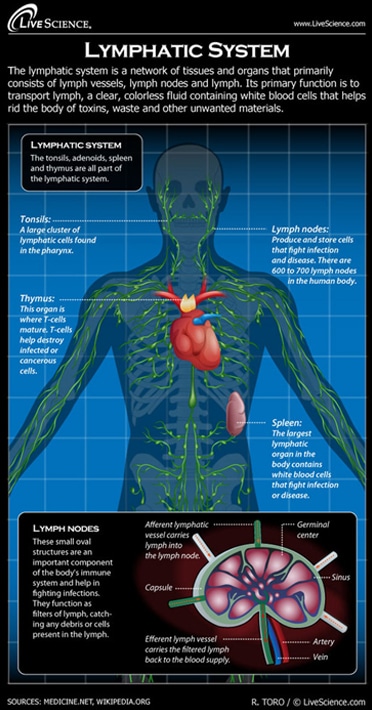 WHAT IS LYMPHEDEMA ?( PRIMARY / SECONDARY)
Lymphedema may be considered a condition in which there is a failure of the lymphatic system to drain excess fluid and substances from the interstitial spaces, and/or a symptom arising from another primary health problem. It is a chronic condition characterised by swelling, usually of one or more limbs, and in some cases involving the trunk, head or genital area.People of all ages can be affected by lymphoedema, including babies and children and it can profoundly affect quality of life. (Lymphedema Framework 2006) :For everything you need to know about Lymphedema Read more..
BREAST CANCER & LYMPHEDEMA
Following breast cancer surgery and treatment some swelling which in time resolves, may be normal. However with the removal of axillary lymph nodes there is a heightened risk of developing secondary lymphedema. This is a more pronounced form of swelling affecting the arm or trunk at the same side of the body where the surgery was performed. If triggered, it may present months or even years following treatment. Education is provided on the four cornerstones of lymphedema prevention ortreatment , these include skincare, exercises, compression (garments or bandaging) and Manual Lymph Drainage (MLD) / Self Lymph Drainage (SLD
The first visit to The Lymph Clinic will include a consultation during which the therapist will measure the affected area(s); will educate on the cornerstones of lymphedema prevention and assess the need for treatment. Each session will last approximately one hour.
At The Lymph Clinic the therapist will always work in conjunction with your GP or referring oncologist or radiologist .
STAGES OF LYMPHEDEMA
There are three basic stages of lymphedema. The earlier lymphedema is recognised and diagnosed, the easier it is to successfully treat and avoid many complications.

LATENT - STAGE 0
Lymphatic transport capacity reduced
No visible/palpable oedema
Subjective complaints are possible such as a feeling of heaviness, skin tightness, aching or discomfort.

STAGE 1
Reversible lymphoedema (mild)
Accumulation of protein rich oedema fluid
Pitting oedema
Reduces with elevation (no fibrosis)
Upon waking in the morning the limb or affected area is almost a normal size.
The tissue is still in a "pitting stage" (when pressed by a finger the area indents and holds the indentation).

STAGE 2
Spontaneously Irreversible Lymphoedema (moderate)
Accumulation of protein rich edema fluid
Pitting becomes progressively more difficult
Connective tissue proliferation (fibrosis)
Connective tissue proliferation (fibrosis)

STAGE 3
Lymphostatic Elephantiasis (severe)
Accumulation of protein rich edema fluid
Non pitting oedema
Fibrosis and sclerosis (severe induration)
Skin changes (papillomas, hyperkeratosis)
The tissue at this stage is hard (fibrotic) and will only be slightly responsive to the touch.
The limb is very large and swollen and the swelling is almost irreversible.
Infections are possible at any stage of lymphoedema but occurrence becomes greater as the stages progress. A swollen limb left untreated becomes hard and full of lymph fluid which is high in protein and a perfect medium for bacteria and infections.
While complications can arise in all stages of lymphoedema, it is Stage 3 that presents with the most significant and severe complications which is another very important reason for early diagnosis and immediate treatment.
WHAT IS LIPOEDEMA
Lipoedema is a fat distribution disorder that almost exclusively occurs in women and is infrequently recognised. Both hormonal impacts and genetic predisposition are assumed with lipoedema. Statistics, however, vary widely. Lipoedema usually develops during puberty or pregnancy, characterised by symmetrical enlargement of the legs, by pain, tenderness, easy bruising and persistent enlargement after elevation of the limbs or following weight loss For more detailed information and an interview with Prof Peter Mortimer click on the Lipoedema UK website www.lipoedema.co.uk/ and for a detailed interview with Dr K Herbst click on 'Medical' at www.lipoedemaladies.com/