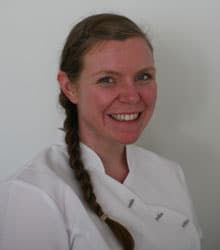 Professional Qualifications
BSc Physio &Chartered Physiotherapist
About Vicki Farrell
Vicki is a chartered physiotherapist, qualifying from Coventry University in 2008. She worked for over 2 years in the NHS and then returned to Ireland in 2011, to work in private practice. Since 2011 she has been working at Physio South East in Wexford, with a special interest in respiratory, care of the elderly and neurological physiotherapy .
Her respiratory care in the outpatient setting is education based, treating mainly patients with COPD and bronchiectasis. She also teaches Pilates, including remedial equipment based Pilates. Vicki utilises her Pilates knowledge in treating both her elderly and neurological patients, including those with MS, stroke and children with cerebral palsy. Her care of the elderly experience also enables her to advise on mobility aids as required, advice for safety in the home and balance and strength rehabilitation.
Vicki works as physiotherapist in Wygram Nursing Home, a newly opened, purpose built premises in Wexford town. She assesses and treats residents here on a weekly basis.
She completed her Dr. Vodder training in MLD and CDT in 2013, and has been working with a variety of clients using these techniques since then, including those with chronic sinusitits, oedema post trauma as well as a high number of primary and secondary lymphedema and has recently joined The Lymph Clinic team of therapists.