Training

---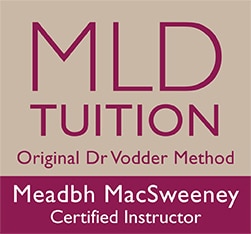 Certified Training and Tuition in Manual Lymphatic
Drainage (Original Dr Vodder Method)
This is the only validated course run in Ireland to teach the Dr Vodder Method of Manual Lymphatic Drainage. (MLD)
Downloadable Forms

Go To Events
---
Meadbh Mac Sweeney, Director of The Lymph Clinic, facilitates and teaches a postgraduate course in Manual Lymph Drainage (MLD)and Decongestive Lymphatic Therapy (DLT). The post-graduate training offered by the The Lymph Clinic is the only Dr Vodder certified programme on Manual Lymph Drainage in Ireland and Meadbh is the only certified teacher in the country.
Courses are open to qualified healthcare professionals, e.g. Nurses, Doctors, Physiotherapists, OccupationalTherapists, Physical Therapists, Osteopaths and experienced Massage Therapists (with a min of 260 hours training.)
Course outline as follows:
MODULE 1: MLD Tuition
Online theory instruction (8 hours plus self-study and reading, total: 30 hours approx.). This theory instruction may also be provided by the relevant teacher (8 hours ++, 12 UI).
Contents of training:
General anatomy and physiology of blood circulation;
General anatomy of the lymphatic vessels and lymph nodes;
Indications and contraindications;
Special anatomy of the main lymphatic vessels as well as of the lymphatic systems of the various body regions and the skin;
Physiology of the interstitial space, lymphatic system and lymphatic fluid:
Structure and function of the interstitial connective tissue, physiology of interstitial exchange of matter, diffusion, osmosis, colloid osmosis, filtration, reabsorption, active cell transport process, permeability of blood capillaries
Extravascular circulation of blood proteins
Exchange of matter and fluid in the terminal portions of pathways;
Starling's equilibrium;
Physiology of the lymphatic system (drainage function, lymph formation, lymph-obligatory substances, lymph transport, transport capacity of the lymphatic system, defence and filter function); Lymphatic fluid, chyle;
MODULE 2: THERAPY 1
The practical sessions include special techniques for the joints, the head (including intra oral) and deep abdominal work, introducing the student to therapeutic applications. Advanced theory and current research is discussed as well as a review of techniques and theory from Basic module.
Therapy 1 concludes with an exam and if passed successfully, an internationally recognized certification, allowing the therapist to treat skin conditions; fluid retention; muscle tension; sinus congestion; traumas; headaches; minor burns and scars; cellulite; bruising; constipation and minor arthritic conditions; chronic inflammatory conditions such as arthritis, acne and acne rosacea.
Lymphoedemas are introduced in a didactic manner to bring awareness of the condition clinically and highlight to therapists that pathologies such as lymphoedema require further training.
MODULES 2&3 :
Therapy 1 is a pre requisite to the final modules: THERAPY 2 & 3
Successful completion of the Therapy I exam enables the student to continue to these final two courses which are taught consecutively. The modules cover primary & secondary Lymphoedemas, vascular oedemas and other lymphatic related disorders and their treatment in the context of Decongestive Lymphatic Therapy (DLT).
Theory instruction is given by a medical lymphologist affiliated with the Dr Vodder Akademie. Recent instructors include Prof Horst Weissleder & Dr Melanie Wohgennant
Recommended Textbook
Lymphoedema "Diagnosis and Therapy™ Prof Horst Weissleder & Prof Christian Schuchhardt. ISBN:3-934371-24-8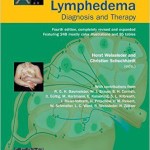 Bandaging and specific MLD treatments are taught.
At the end of the course, students take a written and practical exam to demonstrate competence in techniques, treatment and bandaging. Students who successfully complete the examinations may then describe themselves as Dr Vodder-Certified MLD / CDT Therapists which is an internationally recognized certificate of 160 hours training.
---
NEXT COURSE STARTING –
Module 1: MLD Tuition 6th - 9th March 2020 OR 16th - 19th October 2020
---
Therapy 1: April 19th - April 23rd 2019 OR Nov 22nd- Nov 26th 2019
---
Therapy 2&3 Review: September 14th & 15th 2019
---
Therapy 2: July 20th to July 24th (off 25th & 26th)
---
Therapy 3: July 27th to July 31st
---
---
DR VODDER REVIEWS / RECERTIFICATION: 2.5 DAYS
Reviews are organized on an bi- annual basis for certified therapists at Therapy 3 level. This is an invaluable opportunity to have hands checked by Prof Hildegard and Maria Wittlinger. It is also an opportunity to hear an invited speaker or be given an update on happenings in the clinical field. It is a recommendation of the school to attend a review and is accredited for CPD points.
Class time: 16 contact hours
---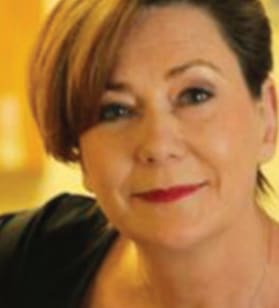 For further information, please contact:
MEADBH MAC SWEENEY, Clinic Director
CNS Lymphoedema,
Certified Dr Vodder MLD Instructor
The Lymph Clinic, Cork Clinic, Western Road, Cork
DAY : 021 434 7351 | EVENING :
N/a
meadbh@thelymphclinic.ie
www.thelymphclinic.ie