Kinesio taping / Medical Cure Taping

Kinesio taping / Medical Cure Taping
CureTape is made of high-quality elastic cotton with an anti-allergic acrylic adhesive layer. Its ventilating and skin-friendly properties mean that the tape can be kept on for longer periods than would otherwise be possible. A 24-hour a day treatment is, for example, possible, enabling tissue to recover much more quickly after trauma. The tape is water resistant, so that the 'patient' can shower or swim as usual. CureTape is registered as a medical aid Class 1, meets the strictest quality requirements, is safe to use and does not contain any latex (TÜV quality mark)
HIVAMAT® 200 offering :

How it works
The effect on the skin
The elasticity and weight of CureTape correspond with those of human skin. Use is made of the elasticity of the tape in relation to that of the skin, as a result of which the tape has a sort of 'lifting effect' on the upper layer of skin, the epidermis.
This instantly relieves pressure, enabling the blood circulation and lymph drainage to recover. The pressure on pain receptors decreases and the pain perceived decreases immediately. Various effects can be achieved by using different taping techniques. One of the significant effects of using CureTape is the stimulation of the self-healing capacity of the body.

The basis of the Medical Taping Concept (MTC) was laid in the 1970s in Japan and Korea. The Dutch company FysioTape BV introduced this revolutionary method into Europe in 1998.
CureTape, a special top-quality elastic tape, was developed in order to achieve the best possible results with the method. CureTape now enjoys global fame and is used in practically every country in the world. For good results to be realised, it is important that the tape is applied in the correct manner, which is why special MTC courses are given and why various books and DVDs have been published on this subject.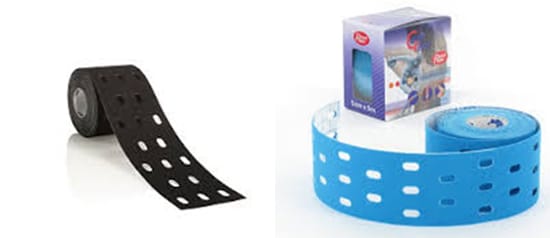 More and more has become known about the action of CureTape and its applications for the MTC in recent years. A variant with a special pattern of holes, CureTape-Punch, has now been developed to achieve even better results with this method of treatment in certain cases.The patented hole pattern gives the tape a greater stretching capacity and a three-dimensional stretching direction arises. Not only can the tape stretch in the length, but also diagonally. The hole pattern causes differences in pressure within the tape applied, as a result of which receptors in the skin and fascia receive even more stimuli. The fascial system plays an important role in the field of pain, control, stability and the distribution of strength