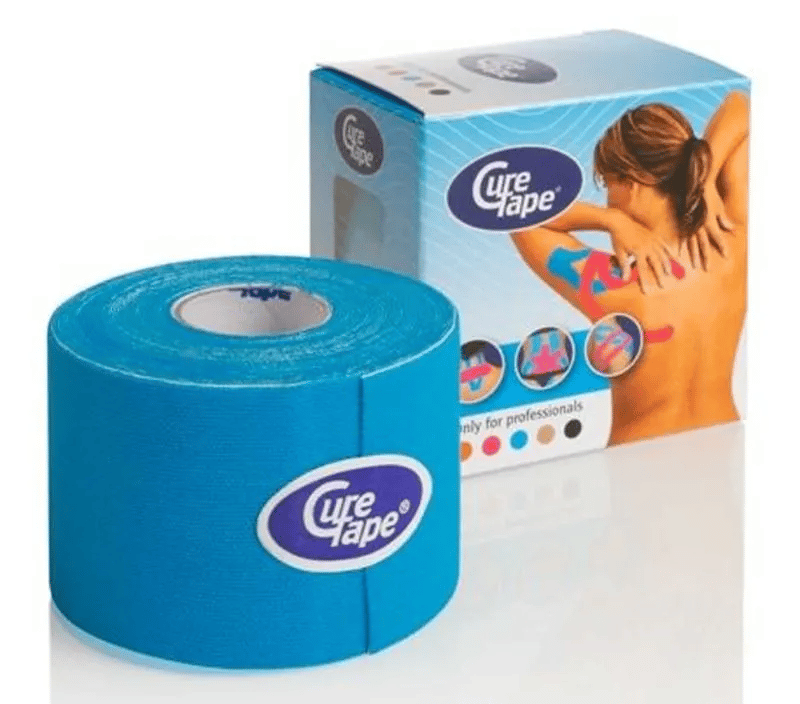 The Lymph Clinic uses CureTape which is registered as a medical aid Class 1, meets the strictest quality requirements, is safe to use and does not contain any latex.
This kinesiology tape is made of high-quality elastic cotton with an anti-allergic acrylic adhesive layer, Its ventilating and skin-friendly properties mean that the tape can be kept on for longer periods than would otherwise be possible, it is water resistant, permitting you to shower or swim as usual.
How it works: The effect on the skin
The basis of the Medical Taping Concept / Kinesio method was created in Japan and Korea in the seventies. At the time innovative methods of taping were being developed, starting from the idea that movement and muscle activity are essential in maintaining and recovering health.
This taping method was fundamentally different from the conventional taping methods with rigid white tape.
The elasticity and weight of CureTape correspond with those of human skin. Use is made of the elasticity of the tape in relation to that of the skin, as a result of which the tape has a sort of a lifting effect on the upper layer of skin, (epidermis) enabling the blood circulation and lymph drainage to flow with less restriction.
Taping is known to:
Remove congestion in blood circulation and lymphatic drainage.
Alleviate pain (the pressure on pain receptors decreases thus the pain perceived decreases quickly)
Improve muscle function by regulating muscle tone.
Support the function of the joint by stimulating proprioception, correcting the direction of movement and increasing the stability.
The elastic properties of Kinesiology Tape allows full mobility after application, in contrast to the conventional non-elastic sports tape, which has the purpose to fixate joints and restrict movement.
For more info see https://www.curetape.com/

Meadbh Mac Sweeney is Medical Taping Concept (MCT) certified